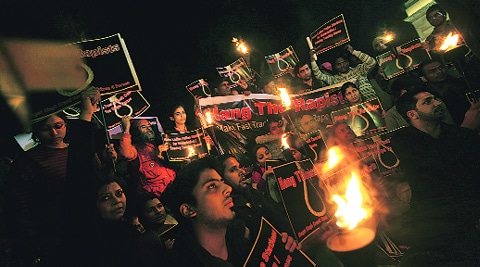 The gangrape had sparked protests across the capital. (Archive)
The Supreme Court on Monday reprimanded the two convicts in the December 16 gangrape case over their attempt to blame the judges for handing out death penalty.
Summarily shooting down the endeavour to put the blame on the judges who dealt with the case, a bench of Justices B S Chauhan and J Chelameswar warned the convicts against adopting this line of argument as they challenge their conviction and the consequent punishment.
The court also told the counsel for two the convicts not to seek refuge under a contention over inadequate and inefficient legal representation in the trial court and the Delhi High Court so as to say the conviction was a result of bad lawyering.
"Don't try to find fault with the judges… and with the lawyers. We cannot permit you to start levelling these baseless allegations against them. You have to argue only on the legal and factual points and not preach us about the judges and the lawyers," the bench told advocate M L Sharma.
Sharma represented convicts Mukesh and Pawan Gupta, whose death sentences have been stayed by the SC, pending their appeal.
Sharma had tried to argue that a "grave miscarriage of justice" had been caused by sentencing his clients to death since there were serious issues in the manner their lawyers argued the matter in the lower courts.
The bench however cut him short. "We don't need to know how good you are and what you would have done had you represented them. We are also not interested in any public debate on the issue. Just tell us what according to you are the flaws in the judgments of the two courts that held you guilty and sentenced you to death," the court said.
At this, Sharma began by pointing to the injuries caused to the victim and the medical reports in this regard. But when asked by the court, he failed to show from the case record where these medical reports lay.
The apex court then gave him a week to present all the medical records, including the post-mortem report of the Singapore hospital where the victim was treated before she succumbed to injuries.
It extended till April 14 the stay on the execution of death penalty of the two convicts. Besides Mukesh and Pawan, the High Court had also upheld the conviction and death penalty of Akshay Thakur and Vinay Sharma.
While dismissing their appeals, the High Court had termed the offence as "extremely fiendish" and "unparalleled in the history of criminal jurisprudence" while adding that the "exemplary punishment" was the need of the hour.
The court also asserted that if this case was not the rarest of rare cases" then "there is likely to be none".
The Source of This article is :

indianexpress.com


Please visit the website and Support the original source.

The information has been published here for aggregation purposes only.