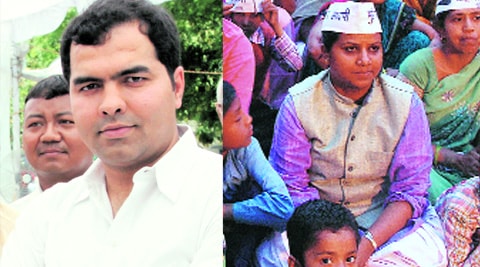 Parvesh Sahib Singh Verma (left) paid Rs 2,100 as pandit dakshina, while Rakhi Birla spent Rs 37,500 on caps. (Archive)
Money spent on purchase of brooms (the party symbol) and party caps is shown as part of the 'daily election expenditure' by many Aam Aadmi Party (AAP) candidates contesting from Delhi. Both items are widely being used by them during campaigning. Candidates have also added the cost of hiring e-rickshaws and auto-rickshaws for campaigning to their poll expense accounts, besides the cost of hiring private vehicles and bikes.
The Delhi Chief Electoral Officer has been posting candidates' "day-to-day election expenditure register" online. The campaigning will come to an end by Tuesday evening and the money spent so far has not just gone into pamphlets and transportation, but also in providing refreshments or hiring of cooks. The maximum a candidate is allowed to spend is Rs 70 lakh.
Anand Kumar, AAP candidate from Northeast Delhi, has shown daily expenses varying between Rs 280 and Rs 800 on brooms. Another Rs 1,000 has been spent on caps. Besides, expenses on bedsheets and pillows, too, have been mentioned in the daily expenditure sheet.
AAP's Northwest Delhi candidate Rakhi Birla has shown expenses of Rs 37,500 on purchase of 25,000 caps and another Rs 7,000 on hiring of a dance group. Birla also spent Rs 1,12,360 on an SMS pack.
AAP candidate from West Delhi Jarnail Singh also mentions the money spent on purchase of brooms as part of his poll expenses — his online poll register shows he bought 10 brooms at Rs 15 each.
He spent Rs 1.32 lakh on e-rickshaws over 10 days and also held a car-and-bike rally in his constituency, spending over Rs 10,000 on hiring vehicles. AAP's East Delhi candidate Rajmohan Gandhi spent Rs 16,500 on auto-rickshaws in a single day in an attempt to "campaign like the aam aadmi".
Parvesh Sahib Singh Verma, BJP's candidate from West Delhi, held a hawan the same day as he filed his nomination, March 21, and paid Rs 15,240 for hawan samagri and Rs 2,100 as pandit dakshina. Congress candidate from the constituency Mahabal Mishra shows money spent on T-shirts in his expenses, having paid Rs 10,500 for 200 pieces along with an additional Rs 52,000 on caps.
Congress candidate from Northwest Delhi Krishna Tirath shows expenses on "pakodas, samosas and tea" served by her during campaigning under poll expenses while in Chandni Chowk constituency, Congress' Kapil Sibal bought "leaf and paper face masks" for Rs 14,438.
The Source of This article is :

indianexpress.com


Please visit the website and Support the original source.

The information has been published here for aggregation purposes only.