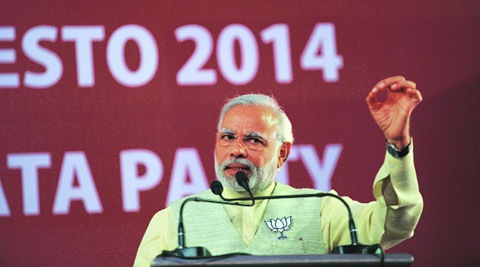 On Saturday, party announced cancellation of Modi's rally.
BJP's prime ministerial candidate Narendra Modi's campaigning in the capital in the last lap isn't going according to plan. After his planned rally in the city on Monday was cancelled, his campaign has suffered another hiccup: The much-publicised event in which Modi will interact with voters via 3D medium was put off on Monday because of a last-minute glitch. It will now happen on April 11.
Modi's interaction with voters via 3D will now take place only after polling is over in the capital, on April 11 between 6 and 8 pm. Earlier, the 3D event was planned at more than 10 places, later cut down to only four.
People, who gathered at Sarojini Nagar, said they came to hear Modi and that they were informed very late about the cancellation.
Causing confusion among people and party cadres, several newspapers carried ads on Monday about the rally. The party had announced its cancellation on April 5.
"We had been told to tell people about the rally on April 7. Then, it was cancelled. Then again, today's ads created a lot of confusion as people started asking about the rally. We apologetically told them that the rally had been cancelled but told them about the 3D interaction. But an hour before it was scheduled to be launched, we were told that it has been cancelled due to a snag. The information came from Gujarat," a senior party leader said.
Some senior party leaders felt both the events would have boosted the BJP's campaign in the capital in the last lap. Another section of leaders said the cancellations would have little impact on voters as polling was around the corner.
Advertisements appearing in the media publicising Modi's rally caused more embarrassment to the party.
When asked about the ads, Delhi BJP president Harsh Vardhan said, "Even if I have little idea about particular ads in the campaign heat and dust, the responsibility lies with me because of the post I hold. But we need to understand that the rally was cancelled just two days ago. And by then the ads must have been sent to media houses. This may have caused some confusion among people, but party leaders had already told supporters about the cancellation."
The Source of This article is :

indianexpress.com


Please visit the website and Support the original source.

The information has been published here for aggregation purposes only.