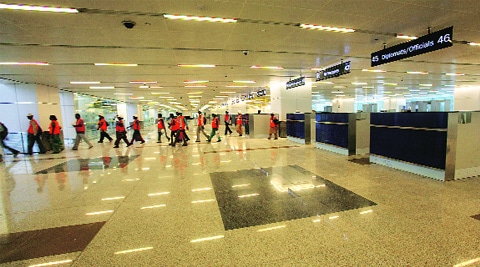 The incident took place at IGIA's Terminal 3. (Archive)
Three Israeli diplomats have been charged with assaulting an immigration officer at the Indira Gandhi International Airport on Saturday afternoon reportedly because the officer was taking too much time to process their papers. The incident took place at IGIA's Terminal 3.
Deputy Commissioner of Police (IGIA) M I Haider said, "The three attaches have been charged under sections 186 (obstructing a public servant in the discharge of his duties), 353 and 332 (voluntarily causing hurt to deter public servant from performing his duty)."
Police said the incident took place at 1.20 pm on Saturday when the three attaches were headed to Kathmandu and were preparing to board a SpiceJet flight. The incident was recorded by the airport's CCTV cameras, police said.
Reportedly, when the three diplomats reached the immigration counter, they found no one at the desk. So they called out to immigration officers in an adjacent counter, saying they were in a hurry. Responding to their request, immigration officer Somveer said he would process their documents.
Police said after 10 minutes, the diplomats got restless and asked Somveer to hurry up. Somveer reportedly asked them to be patient as he needed time. Police said this angered the diplomats, who abused him. When Somveer got up and began explaining to them, one diplomat allegedly slapped him.
Immediately, Somveer raised an alarm and senior immigration officers rushed to his help. Police were informed and the diplomats questioned. During questioning, they reportedly told police that they lost their cool because immigration was taking too much time and that they were in a hurry.
Since the diplomats enjoy diplomatic immunity, they have not been arrested. Police said a report on the matter had been prepared and sent to the Police Headquarters, which will take up the matter with the Ministry of External Affairs.
An Israel Embassy spokesperson said, "This is a regrettable incident. The Israeli authorities are working together with our Indian counterparts to resolve this at the earliest."
The Source of This article is :

indianexpress.com


Please visit the website and Support the original source.

The information has been published here for aggregation purposes only.