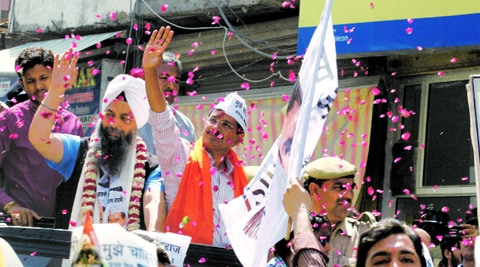 Kejriwal with West Delhi candidate Jarnail Singh. (Renuka Puri)
In their final pitch for the Lok Sabha polls in the capital, the Aam Aadmi Party has stepped up its campaign during the last two days — with AAP leaders holding whirlwind tours in the city, party volunteers going door to door to mobilise support and an all-new poster drive.
Senior party leaders and star campaigners — Arvind Kejriwal, Manish Sisodia, Kumar Vishwas among others — have already held roadshows and public meetings in all Lok Sabha constituencies in the capital. "On the last day, since we can campaign only till 5 pm, there will be no jansabhas. These gatherings take up time and, therefore, all leaders will be on roadshows," AAP's Delhi unit leader Ashish Talwar said.
Kejriwal will take off on a tour of Northwest Delhi with Lok Sabha candidate Rakhi Birla.
Sisodia, the Patparganj MLA, on the other hand, will campaign in East Delhi. Even Vishwas, the Amethi candidate, will campaign in Ghaziabad, from where Shazia Ilmi is contesting.
From launching a last-minute "red light buzz campaign" to reviving their 'Play for Change' drive, the AAP has also revived its campaign tools used during the Delhi Assembly elections.
While AAP leaders will be holding roadshows in various parts of Delhi, volunteers have been organised into "red light buzz teams" to bolster the party's chances. A band formed by an IIT graduate, Nandan Mishra, on the other hand, has been visiting marketplaces, singing patriotic songs and urging people to vote for the AAP.
The party has even come up with new publicity material attacking the BJP's prime ministerial candidate Narendra Modi.
"Abki baar Modi sarkar, aa bail mujhe maar," reads one banner. Another one raises question on the money spent by the BJP for campaigning. Urging voters to not make the mistake of voting for Modi, the banner reads, "Huge expenditure, huge campaign, how will he get rid of corruption?"
Carrying these banners slamming Modi, the last two days of campaigning will see volunteers outside Metro stations and at marketplaces, urging people to vote for the AAP, leaders said.
To woo Poorvanchali voters in Delhi, the AAP has come out with pamphlets carrying photographs of Raj and Uddhav Thackeray with Narendra Modi and men being beaten up. "Will Modi, along with Raj and Uddhav Thackeray, protect people of Uttar Pradesh and Bihar?" the pamphlet asks.
According to party leaders, these pamphlets came out following Kejriwal's Uttar Pradesh tour, where people had brought up discrimination faced by them on regional lines. Having printed around three lakh copies of the pamphlet, the AAP has been distributing them in areas with a large number of Poorvanchali voters.
AAP leaders claim that party volunteers on door-to-door campaigning had been roughed up allegedly by BJP workers during Lok Sabha polls. "While distributing some pamphlets in areas like Dwarka, Vikaspuri and Uttam Nagar, our volunteers were pushed around and their pamphlets taken away by people wearing "Modi for PM" caps. We are going to file a complaint with the Election Commission on this issue," Anshul Srivastava, AAP volunteer, said.
The Source of This article is :

indianexpress.com


Please visit the website and Support the original source.

The information has been published here for aggregation purposes only.