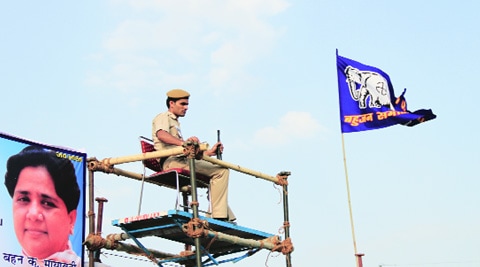 A policeman at the BSP rally in Sultanpuri on Monday. (Ajnavi Tarannum)
In her first public address in the capital ahead of the Lok Sabha elections, BSP supremo Mayawati attacked Aam Aadmi Party (AAP) chief and former Delhi Chief Minister Arvind Kejriwal, claiming that a man like him was "incapable of running the government".
"Yahan sarkar mein rehkar Kejriwal ne Opposition ka kaam kiya. Woh sarkar hi nahi chala sakte. AAP ne bahaut wade kiye, par ant mein kuch nahi kar paayein (While in government, he did the work of the Opposition. They can't run the government. AAP promised a lot but could not do much)," she said.
Mayawati's rally was strategically planned in Northwest Delhi's Sultanpuri area, where Dalit voters account for a large percentage. The candidates contesting from the constituency include Udit Raj from BJP, Krishna Tirath from the Congress, Rakhi Birla from the AAP and
Basant Panwar from the BSP. The BSP has fielded a total of six candidates for the Lok Sabha elections.
She accused successive governments of mistreating Dalits.
"There are unauthorised colonies where backward communities live and are treated worse than animals since there are no facilities in place. Whenever there is a crime, these backward communities are exploited and falsely implicated," she said.
At the rally, the Dalit leader reiterated her claim that if Narendra Modi came to power, there would be communal riots in the country.
"…Even by mistake if you choose him as the prime minister, there could be communal riots in the country at any point. I urge you to not allow the Congress or the BJP to return to power as they have done nothing for the country in the last 65 years," she said.
Accepting that the BSP had performed poorly in the Delhi Assembly elections last year, Mayawati said there was no need to be disappointed.
"Even we had not anticipated such a poor performance of the Congress in the Assembly elections. AAP promised a lot but couldn't do anything as they don't know how to govern. By fielding a candidate in Delhi, I am giving both the Dalit and Muslim voters an option," she said.
The Source of This article is :

indianexpress.com


Please visit the website and Support the original source.

The information has been published here for aggregation purposes only.