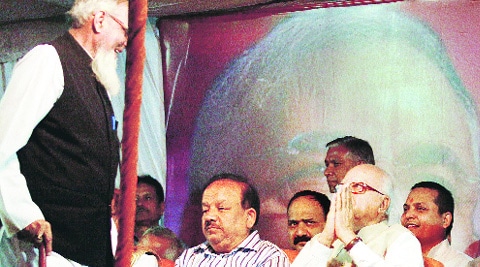 L K Advani (right) and Harsh Vardhan with senior party leader Arif Baig (left) in Chandni Chowk on Friday. (Prem Nath Pandey)
With just three days left for polling in Delhi, Harsh Vardhan is going all out to woo Muslims.
Campaigning extensively in the Muslim dominated Assembly seats, the BJP candidate for Chandni Chowk constituency has involved party leader Arif Baig to help him and speak about the BJP's agenda on development.
Meanwhile, during a press conference on Monday held to highlight the achievements of the Atal Bihari Vajpayee government, Harsh Vardhan claimed that "voting out Vajpayee was a historic blunder".