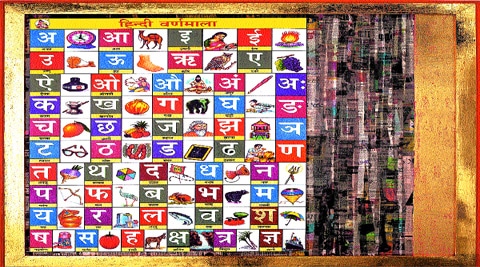 Work by
N Ramachandran.
Pradhuman Sodha
What if we were taught to say 'C for nose' or 'B for cow'? Can letters in an alphabet be subverted to mean other objects? That is what visual artist N Ramachandran projects in his paintings at the "Chasing Mirrors" exhibition. He forces one to look beyond the visible. Held at The Lodhi hotel currently, the show hosts works of 13 artists from across India. "It explores the different layers of urban cities, old, new, happy, sad, traditional, sophisticated and naive," says Sharan Apparao, the curator.
"The Machine" series by Kumar Ranjan, from Delhi, shows the mechanical side of city dwellers and the human side of machines. "They show greed, race for power, and emotion-less behaviour. People have become machine-like. In my works, I have analysed their motives and behaviour," says Ranjan.
Alexis Kersey, an English artist, who now lives in Mysore, has a series of paintings showing a bird with a human head, perched on a branch, with a background of a distant script. "It is his statements on the difficulties and dilemmas of the complex modern age, where we fix each other in roles," says the curator.
Streets, sometimes, offer the most accurate representations of life and Goa-based artist Subodh Kerkar's big red chillies, made of fibreglass and rubber tires, hang in the corridors attracting and surprising viewers. Meanwhile, showing erasure is Mainaz Bano's work from Lucknow, which talks about the loss of culture from cities. Her The Missing Nawab has a lavish chair with a hookah, but no Nawab. "Modernity has left only the material things in the name of culture of Awadh and it is imperative we protect it," says Bano.
Apparao says that the exhibition talks of things "that remain unseen while a city transforms into a metropolis and finally becomes a world class city. These unseen pockets from the past make for interesting cityscapes coexisting with the modern urban developments."
The exhibition is on till April 30 at The Lodhi Hotel. Contact: 4636 3333
(The reporter is a student of EXIMS)
The Source of This article is :

indianexpress.com


Please visit the website and Support the original source.

The information has been published here for aggregation purposes only.