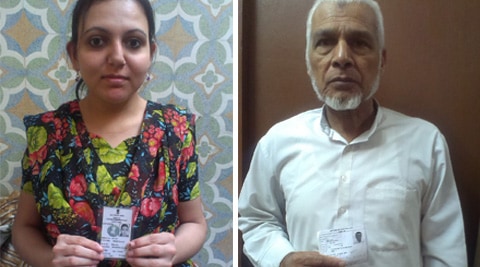 First time voter Ariba Shuaib (left) with her voting ID card; Senior citizen Abdur Rehman (right).
Even as the rest of the Delhiites were exercising their franchise on Thursday, dozens of voters in the Central Delhi constituency were caught by surprise as their names were missing from the voters' list.
Furious after not finding their names, majority of the residents protested outside the polling booths in Daryaganj area.
While a few protested, others ran from pillar to post to get their names registered on the voters' list.
Twenty-one-year-old Ariba Shuaib was disheartened as she failed to cast her vote for her favorite candidate. "I had voted for the first time in Delhi Assembly elections and had helped my favourite candidate win the seat. I was excited to use my right to get my favourite candidate win this time too."
"However, all my excitement vanished as I could not find my name in the list. I am feeling like a spectator than a player in the field," rued the B.Ed student.
A lot of residents smelled conspiracy behind their missing names since they alleged that they had cast their votes during Delhi Assembly Elections.
"It is very disappointing for me to be unable to cast my vote this time," said 68-year-old Abdur Rehman while showing his ID slip he received at polling booth during the Assembly elections.
The retired DTC employee added: "I have been casting my vote without a miss from years. Be it the Delhi Assembly elections or General Elections, I have ensured that I don't miss exercising my right to vote. There has no been transparency left in the election process. This is nothing but a conspiracy by the political leaders who are afraid of losing to their opponents."
Another Daryaganj resident, Gopi lamented: "We have no trust left on any government now. Those willing to exercise their votes are not allowed to vote for their candidates. I have not been going to vote from last two times. But this time for a change, I had decided to exercise my right. None of the candidates visited us during the campaigning but still I convinced myself to vote for the right person. But this is what happens when you want to do something for the government."
The Source of This article is :

indianexpress.com


Please visit the website and Support the original source.

The information has been published here for aggregation purposes only.